Dec 20, 2016
Back in October we published our first e-book for the freelancing writing community. The book was a huge success selling almost a thousand copies via Freelancewritinggigs.com and many more later on Amazon.  Last month we followed up with our second book titled 'Swipe This! How to Create a Killer Copywriting Arsenal Using the Competition' which is an in-depth guide on how to gather information, data and ideas for writing projects and organise them in a 'swipe file' so that they can then be used efficiently in your workflow to produce better content and copy.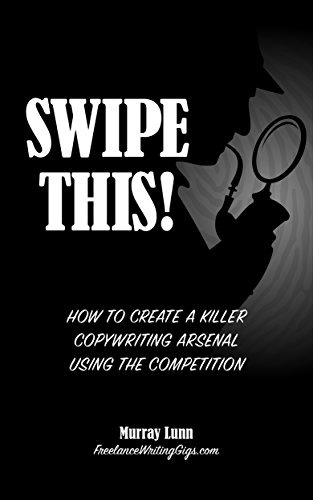 The book is usually priced $8.99 but is available right now on Amazon for only $0.99 so grab yourself a copy quick!
Oct 16, 2016
At the end of 2015 we ran a survey on FreelanceWritingGigs.com asking our readers about how they worked as freelance writers in 2015 and what areas they felt that their writing career were lacking. We then published the results as an infographic. We found that the main takeaway from the survey was that many writers were freelancing at the same time as holding down a full time job and that finding enough clients was also a major factor.
We decided to take these findings and write an e-book that would help educate and train our readers so that they could begin taking the steps to launch a successful career as a part time freelance writer while still being able to hold down their full time job.
The book is called 'The Secret Sauce to Freelance Writing on the Side' and was written by longtime FWJ writer Jodee Redmond who has been working as a freelance writer for over 10 years. Initially the book was released to our email subscribers only but we have now launched the book on Amazon this week. It costs $3.99 but if you are patient and looking to save some money then wait until this Sunday when the book will be free for a limited time 🙂
You can find the book here on Amazon.
Dec 21, 2015
During November we surveyed our readers at Freelancewritinggigs.com on how they work and where they find most of their freelance writing jobs and other questions. We then turned the data and answers we had gathered into an infographic which we shared on the blog, here are some of the main data points of interest:
Most of our readers are female (67%)
The main age group was 25-34
The majority of the respondents were part-time writers
Average number of hrs worked per day was 3-5
57% of the respondents were located in the US
You can see the full infographic here: http://www.freelancewritinggigs.com/2015/12/freelance-writing-statistics-2015-infographic/
Dec 7, 2015
As well as running a media network Splashpress Media also offers a range of media services including PR & marketing for tech firms looking for exposure. Over the years we have worked with a variety of firms including major IT firms & telecoms as well as getting our content featured on major media sites such as Mashable.
Towards the end of 2014 we did some coverage for an excellent billing software for SME's and freelancers called Hiveage on Freelancewritinggigs.com. The team at Vesess behind Hiveage just launched a new SaaS in the autumn and decided to ask us to help them get the word out and we were more than happy to oblige!
Vesess' new venture is a service to help traditional taxi firms in the Asia Pacific region compete with the new players such as Uber, Grab Taxi and Ola that have moved quickly into their territories in the last few years and are starting to dominate the industry. Many of these traditional transport & logistics firms lack the infrastructure to compete but Vesess' new SaaS Vgo helps them move up to the next level and compete with these behemoths.
"Local taxi operators are threatened by companies like Uber and Ola — mainly due to the convenience that they provide. Vgo has everything that a traditional taxi company needs to move on to the next level," says the CEO & founder Lankitha Wimalarathna and co-founder and creative director Prabhath Sirisena in an interview we arranged for them in e27.
Tech In Asia were also very keen to speak to Lankitha and Prabhath about Vgo and also to learn more about the Vesess story and how they built the company up from just a small web development company over the space off 11 years.
You can read the full interview here.
Vgo received $1 million in VC seed funding and they are already operating in Sri Lanka, India, Malaysia and Australia and have their sights set on the US market in the future so you can expect to be hearing a lot more about them in the future.
See our full coverage for them in the links below:
10 transport mobile apps that redefine mobility in Asia – Businessinsider.in
Vesess Debuts Vgo: Cloud-Based Software That Helps Taxis Compete With Uber – Business2Community.com
Can Vesess Help Taxis Take on Uber and Lyft? – Tech.co
Vesess Debuts Vgo – A Cloud-Based Solution For Taxis To Compete with Uber – ITbriefcase.net
Vesess Debuts Vgo – A Solution For Taxis To Compete with Uber – Softwaremag.com
Vgo wants to help local taxi operators take on Uber – e27.co
Their startup survived a tsunami and Sri Lanka's fledgling internet. Now it's booming – TechInAsia.com
Jul 8, 2015
We relaunched Bloggerjobs back in March of this year with Christopher Jan Benitez (who is also a Bloggingpro and Blogherald contributor) at the helm and the site has been growing steadily at a rate of 10-15% month on month since then. Initially as we wanted to concentrate on the content and structure of the site we used a standard Studiopress theme straight out of the box. In the last few weeks we have been working on a new theme that integrates the jobs board and search function into the homepage of the site better, the theme is a customised version of the Magazine Pro theme.
If you are already a reader of Bloggerjobs we hope you like the new layout, if not please do check it out and let us know what you think and if you are looking for some blogging work then don't forget to sign up to the weekly newsletter which has the week's best jobs every Friday 🙂